Exciting news, the next event is going to be something a little bit different…!
With the help of the Red Hen Cookery School, I will be hosting a pop-up supper club at their superb cookery school in Worcester on Saturday 11th May.
As well as cooking you all a wonderful three-course meal, I will
also be doing a short dessert demonstration for you while you enjoy a
welcome glass of bubbly and canapes. You will also have the chance
to mingle with the other guests, before sitting down together for some
delicious food. All this for the bargainous price of £25.
MENU:
French Onion Soup with Gruyère Croutons
Spiced Slow-Roast Lamb or Moroccan Vegetable Tagine served with Herby Lime Couscous and Chargrilled Vegetables
Chocolate Brandy Torte with Raspberry Purée
Coffee and Petit Fours
For more information, please contact me or Naz at Red Hen. You can book your place through their website.
Look forward to seeing you soon!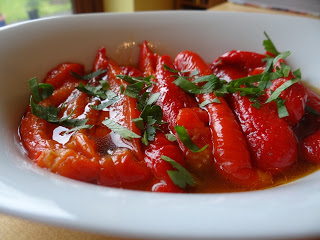 After chatting to my yoga teacher Hilly about supper club, she asked if I could do a yogic feast for her and some of her students. No, I'm not incredibly bendy – I'm afraid to say I'm much better at cooking than I am at yoga!

So, the aim of April supper club is to provide a thoroughly chilled evening for them all. The trick will be to provide my guests with a scrumptious, yet healthy menu, sticking to the yogic diet principles.
I did a little bit of research to find out what sort of thing yogis eat. The yoga (or sattvic) diet is vegetarian, with an
emphasis on fresh, unprocessed ingredients. I understand a little bit of
dairy is allowed, as long as it is from a happy cow, obviously. I always use
organic dairy, and wherever possible, use local, seasonal vegetables. I
discovered another important part of the sattvic diet is that food has
been prepared with care and love – well, I hope that is definitely the
case with me, as cooking is my passion! I love making everything from
scratch too, so the bread and cheese will be home-made.
The evening kicks off with a welcome drink of Melon & Ginger Sharbat with canapés. The sharbat turns out like a rather nice smoothie.
Starter is a mezze of fresh salads:
Celeriac with Apples, Raisins & Parsley
Red Cabbage, Carrot, Orange & Date Salad
Herby Tomatoes and Roast Red Peppers
A sprinkle of 'Dukkah' (an Egyptian aromatic seed & nut mix)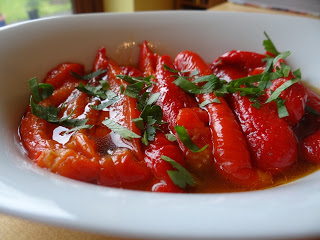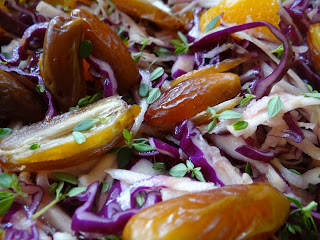 Red Cabbage, Carrot, Orange & Date Salad
Celeriac with Apples, Raisins & Parsley
Main course is paneer and pea curry served with moong dal, chapatis and cucumber salad.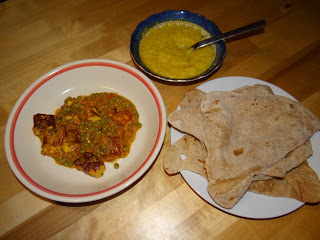 I thought this would be an excellent chance to try making cheese! I was pleasantly surprised how easy paneer was. Basically, you gently boil milk, add some lemon juice and watch as it curdles immediately before your eyes. Drain the now slightly yellowy liquid (whey), and leave the curds to drain for 15 minutes in muslin. Next, weigh down the curds with something heavy, say, a saucepan full of water. Half an hour later, ta da! Homemade paneer! Chop into squares and you can eat it just as it is, but I always like to fry it to get that lovely golden brown colour. Yum! After experimenting with cow paneer and goat paneer, goat was definitely the tastiest.
Pudding is cardamom rice pudding with pistachios and rose water. Now, I have horrible memories of rice pudding from school, so I'm hoping this rather more grown up version will cure me of my phobia…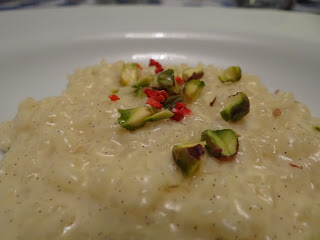 Om