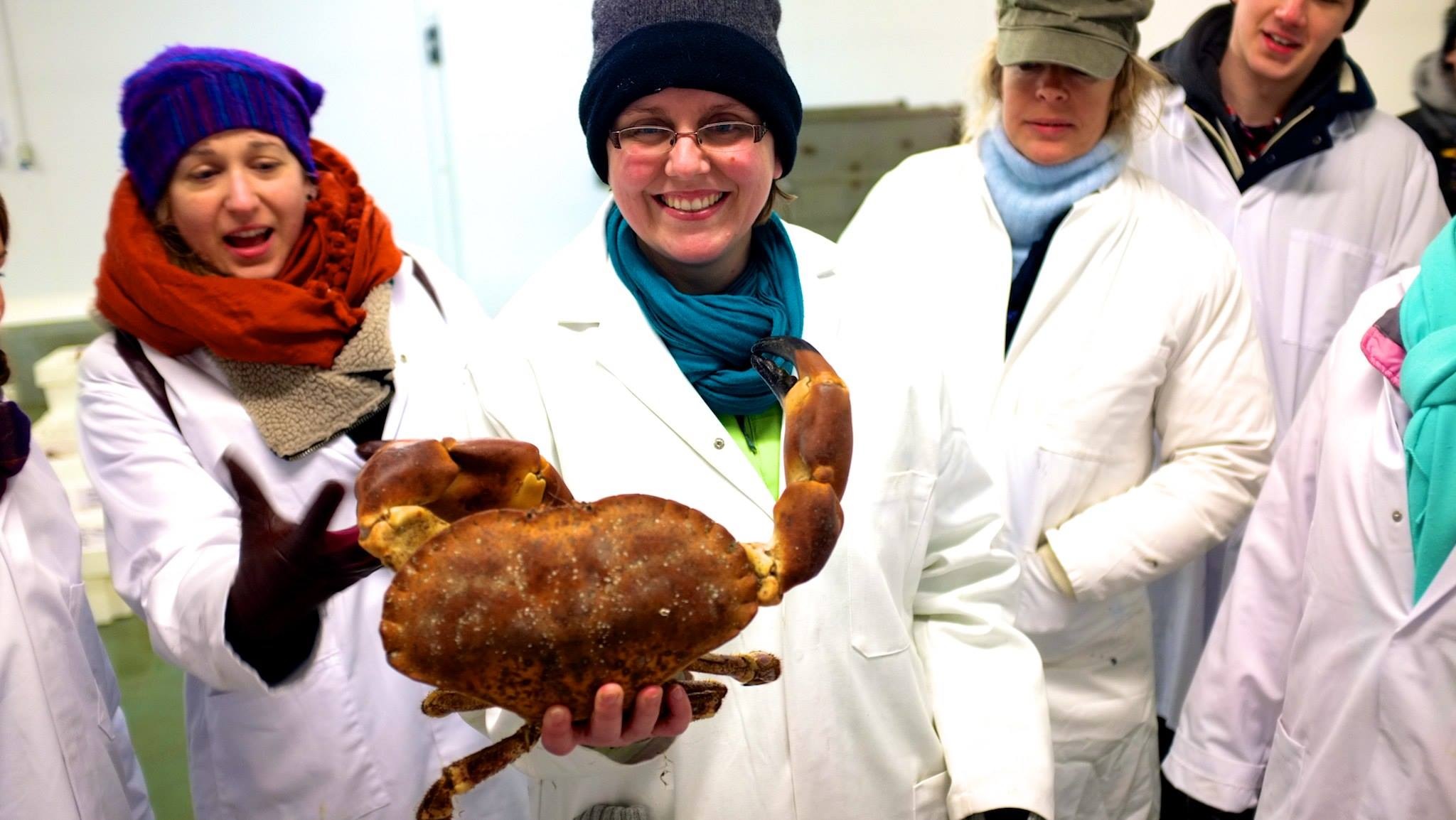 Amazing how time flies, I am now into my third and final term at Ashburton Chef Academy.
I am very excited about my cooking future, but equally I will be very
sad to leave this wonderful learning environment and all my lovely new
foodie friends. Here is an update as to how I'm getting on…
Last term was full of great field trips, and our first involved a very
early start in order to get to Brixham fish market during trading. We
had a fascinating tour of the premises and watched the early morning
auction for the previous evening's haul. I also had a close encounter
with a crab as you can see below (note the ever so stylish hat).
I was far too busy posing for a photograph to notice that the crab was
grabbing my thumb in a vice like grip. Thankfully, the sturdy fisherman
and burly chef tutor were able to fend him off. I got my own back the
following day – all I can say is "Delicious"!
Crab cakes with mango salsa
Another trip was to
Sharpham Vineyard
where we were given a tour of the estate, and very begrudgingly tasted
all their cheese and wines. We were ably led by the lovely
Rebecca Mitchell
who gave us a very thorough introduction to wine tasting, and food and
wine matching. The food and wine matching was particularly interesting,
and I may well be suggesting suitable wines to go with forthcoming
supper club menus.
Back in the kitchen, we have been
expanding our butchery skills. One of our exam tasks was to debone a
quail. (Look away now if you are of a squeamish nature). I feel quite
sorry for the poor little thing, but I'm rather proud of it and it was
an excellent way to show off my new knife skills.
One week was all about cooking with game,
including venison, rabbit and pheasant. The venison dish with chocolate
jus will definitely be appearing on the supper club menu at some point.
It only has a sprinkle of chocolate added, but it tastes absolutely
delicious. Our chef tutor Joe also made an excellent job of using up an
entire saddle of venison, real "nose to tail" cooking in action, and you
can read all about it on his
blog
.
Venison loin, Pomme Anna, honey-roasted fig, chocolate jus
From savoury to sweet, we have been
learning some impressive desserts. I am a big fan of chocolate, so I
have to say this is one of my favourites. Quite a lot of work goes into
the teardrop shaped case and the caramel sugar springs, but I think the
end result looks and tastes fantastic.
Chocolate teardrop, raspberry mousse, caramel spring
We have also been learning to make puff
pastry, which has been incredibly interesting. It is one of those things
that chefs, even those in high-end restaurants, tend to buy in as it
involves a rather time-consuming process and is difficult to achieve a
consistent result. However, I think it is rather good to be able to say
you can make your own! Here are some classic French desserts for you to
dribble over.
Tart tatin, raspberry millefeuille, gateau pithivier, Calvados custard
If you want to see more of the food I've been cooking, please take a look at my
facebook
page, or follow me on
Twitter
for the latest pics.
Supper club will be back in early July, held monthly, and I can't wait
to show off some of my new culinary skills. The plan is also to open a
catering company from July onwards, so if you have any special
celebrations coming up, and just can't face doing the cooking, why not
let me do the hard work, cooking up something wonderful in your own
kitchen while you relax and enjoy spending time with your guests.
Best wishes,
Clare