Knowing how much I like food and cooking, my friend suggested I spend the day in the kitchen at The Fleet at Twyning, where her boyfriend just happens to be head chef. Having never worked in a proper restaurant kitchen, it seemed ridiculous not to accept the offer, and find out what is involved in being a professional chef.
I felt a little nervous beforehand. Were the chefs going to shout at me? Should I practise my best "Yes chef!"? Maybe I should add a salute, and a little click of the heels? As it turned out, they were all very friendly and easy going.
I turned up at 10.30am (probably hours after everyone else started…) ready to help them prepare for lunch. As it happened, a wedding reception was booked for the afternoon, so I was set to work making lots of Mushroom Wellingtons for the veggie guests.

Mushroom Wellington


I also chopped HUGE amounts of veg for the wedding. First time I've ever chopped 6 cucumbers in a row (in case you are interested, that fills a large 4 litre ice-cream tub!). Catering for large numbers is all about the preparation. Everything is prepared the evening before or in the morning, so that once the customer orders come in, you are as ready as humanly possible to get that starter, main or dessert out quickly.
As well as offering a full à la Carte menu, The Fleet do a fine line in sandwiches and burgers. My next task was to make all the burgers for the following day. I also helped plate up the sandwiches and chips. I'm not usually a fan of chips (I know, I'm a little bit weird), but I have to say that these ones are excellent. All chefs tend to use their (immaculately clean) hands a lot, so I quickly realised that I need to develop asbestos fingers for such things as delicately arranging chips, if I'm ever going to succeed in a professional kitchen. Ow! The other thing I noticed is that there was a distinct lack of wooden spoons! I could not survive without my spoons when preparing for supper club, but the boys in the pub give the pans an expert shake and rattle, and magically everything is mixed. I crept off to find some spoons, knowing that my attempts to shake the pan would end up with most of the contents on the floor…
Last time I ate there (as a guest), I ordered pan fried seabass with a crayfish butter sauce, which was absolutely delicious. So I wanted to see how they did it… Best things were the new potatoes – pre-cooked in a saffron stock, then sliced in half before frying in a hot pan to get a lovely crispy bottom. All fairly simple stuff, but this dish tastes amazing!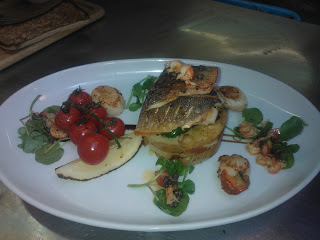 Seabass and scallops with a crayfish butter sauce
In the afternoon, I made the fatal mistake of saying I knew how to make risotto. So that was me – now in sole charge of making the risotto for the evening menu. I got into proper chef mode – making an onion veloute on one hob, risotto on another, and doing a sea bass order, all at the same tim. Thankfully, everything turned out well!
At 4.30pm, it was all hands on deck to get forty starters out for the wedding breakfast. One of the starters was this lovely chicken and ham hock terrine, served with plum chutney. It's not something I've ever made myself, but now I feel inspired to give it a whirl.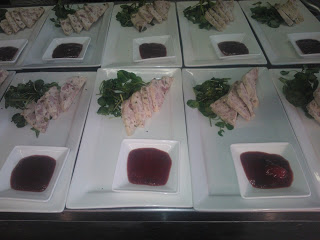 The wedding puddings were fantastic – if I was a wedding guest, I would be very hard pushed to choose which one to order – but the chocolate and orange brownie is one of the best I've ever tasted. Sorry – no pictures of that one – went far too quickly! I can only offer you a photo of the lovely Bailey's cheesecake that I plated up, practising my cheffy swirls and smears.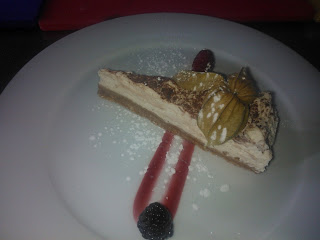 Baileys Cheescake (with cheffy smear)

Finally, the chefs work very long hours, but after the lunch rush they do find some time for a bite to eat. Could this be the biggest sandwich ever! Well, I think they deserve it.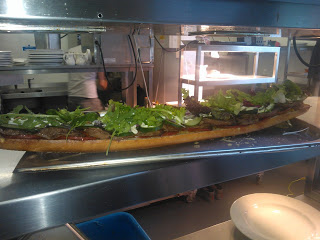 The world's biggest meat sandwich