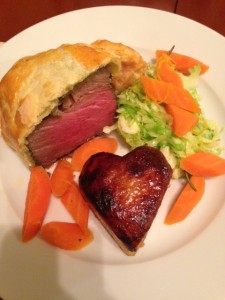 I hope you all had a lovely February, were spoiled rotten on Valentines Day and stuffed your face with pancakes on Shrove Tuesday. My personal favourite topping is bacon, banana and maple syrup – a definite must for you to try next year. I had a very busy February, ending with an amazing day at Le Manoir aux Quat'Saisons, Raymond Blanc's hotel & restaurant.

Friends had bought a seven course tasting lunch for myself and Mr Supper Table as a wedding gift. We had wonderful food and felt thoroughly pampered. The lunch kicked off with a raspberry cocktail and gorgeous little canapés in the lounge, before moving to the restaurant.  Highlights included salmon confit, braised Jacobs ladder and a millionaire shortbread dessert. And the best wine I've ever tasted!  However, I was rather pleased when Mr Supper Table declared that my shellfish bisque was better than Monsieur Blanc's!  (I made good use of lobster shells a couple of weeks ago – see below…). You might also be interested to know that I use the same fishmonger as Le Manoir – only the best for my guests!

Anyway, I have now finalised the menu for March's supper club and here it is.
March 21st Menu
As always, the evening starts at 7.30 with a complementary aperitif and nibbles, then everyone sits down together around 8 o'clock. We serve a three-course meal followed by coffee and petits fours, all for £27.50. Come alone or with a group of friends, everyone is welcome.
Aperitif and nibbles
~
Cauliflower soup with stilton profiteroles & watercress oil
~
Roasted veal fillet, wild mushroom sauce, sautéed spinach, potato rösti, roast salsify
~
Cardamom treacle tart, ginger icecream & poached rhubarb
~
Coffee or tea with petits fours
Please email me to book your place. When booking, please let me know of any dietary requirements, as I am very happy to provide an alternative so you can enjoy the meal as much as everyone else. And don't forget to bring a bottle!
Valentines day
I had a fun time last month cooking a special Valentines meal for two. I prepared everything in advance, then handed it over with simple cooking instructions to the customer so he could serve it to his lucky lady. I did my best to make it as 'heartwarming' as possible!




As it was Valentines day, only the best would do, obviously. Starter was scallops & lobster, followed by beef wellington and chocolate brandy torte. If you're at all squeamish, please don't read the next paragraph! 

I did need a bit of help from Mr Supper Table with killing the lobster. Gone are the days where dropping it straight in a pot of boiling water seems acceptable, but neither can I afford the more humane, but expensive £1000+ 'Crustastun'. We used this machine at Ashburton Chef School which renders the crustacean unconscious with an electric shock (much like farm animals at the abattoir before slaughter), and scientific research has shown this to be the most humane killing method.  We had to choose an intermediate option – one hour in the freezer to make Mr Lobster sleepy, then cutting his head in half to kill the nervous system before promptly dropping him in the boiling water. Thankfully, no wriggling!
Upcoming Dates
March 21st
April 11th
May 8th
Hope to see you all at supper club soon!

Best wishes,
Clare