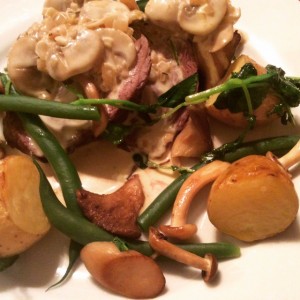 I am now taking bookings for April 11th supper club, and the menu is below. I'm continuing the trend of unusual meat, and cooking one of my all time favourite recipes for lamb shoulder – but using hogget instead. So think of it as a twist on the usual Easter lunch. Hogget comes from sheep aged between 12 and 24 months, unlike lamb which is less than a year old.  This gives the meat a richer flavour, all the more suited to a slow 4 hour roast in the oven. Yum!! 

I'm also feeling nostalgic for some good old fashioned desserts. When planning the menu, I was contemplating sticky toffee pud but I've decided on a decadent banoffee pie – after seeing a similar special on the menu at Bill's in Worcester. It was very tasty, although I did whisper to Mr Supper Table that I could definitely improve on it. The challenge is on! (Although those of you who come in April will hear a rather embarrassing story about a banoffee pie I made in the Alps…)
April 11th Menu
As always, the evening starts at 7.30 with a complementary aperitif and nibbles, then everyone sits down together around 8 o'clock. We serve a three-course meal followed by coffee and petits fours, all for £27.50. Come alone or with a group of friends, everyone is welcome.
Aperitif and nibbles
~
Roast cod, samphire, pickled apple, lemon mayonnaise
~
Moroccan slow-roast hogget, herby couscous, aubergine za'alouk, purple sprouting broccoli
~
Banoffee pie, banana & rum ice cream, caramelised banana and chocolate sauce
~
Coffee or tea with petits fours
Please email me to book your place. When booking, please let me know of any dietary requirements, as I am very happy to provide an alternative so you can enjoy the meal as much as everyone else. And don't forget to bring a bottle!
Goat curry
I had been practising the rose veal dish for this month's supper club (see photo below), and bought the veal from Alternative Meats. While browsing their website, I discovered they also do goat which I have rarely, if ever, eaten.  So Mr Supper Table and I dined on Malaysian goat curry last weekend – very nice!  I also discovered that eating goat is an ethical choice, similar to eating veal. Goats cheese and milk are incredibly popular at the moment, but the result, yet again, is unwanted male kids. So if you are a meat eater, perhaps eating goat is quite a good thing?? Here are some links if you are interested to know more – I think these journalists explain it much better than me!
http://www.theguardian.com/lifeandstyle/2015/mar/15/goat-kid-meat-uk-top-food-trend
http://www.theguardian.com/lifeandstyle/2012/sep/28/goat-kid-recipes-fearnley-whittingstall



Rose veal with wild mushroom sauce

Upcoming Dates
April 11th
May 9th
June 20th
Hope to see you all at supper club soon!